So…I need some guidance from folks with functioning eyeballs, or maybe someone who has owned one of these before. I asked Twitter, but nobody responded. I don't know if it was because the tweet got lost in the shuffle or the image was so ugly that no one dared tell me so, but there it is.
I got an email from the Blind Mice Megamall about a sale they have on just in time for Christmas. It's for some musical Christmas decorations made by the San Francisco Music Box Factory. I thought this might be a great part of a Christmas present for someone. My only problem is I really can't get a good fix on what this thing looks like. They describe it, and it sounds awesome, but…well…I'm just not sure. They didn't give me a sound sample, which is sad since this is the *Blind* Mice Megamall, and sometimes you can get a good sense of something by listening to it. I know I can be deceived, but at least if I could hear the way the tunes sounded, I could decide if it sounded pleasant.
So, I ask you.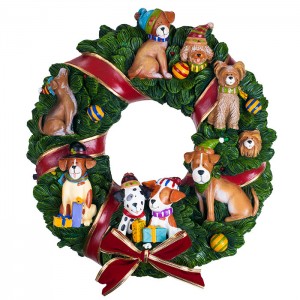 Would you prefer one over the other? Or are both horrible disasters?
Here are the descriptions I have.
Holiday Dogs Lighted Tree Figurine by San Francisco Music Box Factory
The perfect holiday gift for every dog lover you know! The San Francisco Music Box Company brings you the Holiday Dogs Lighted Tree Figurine, featuring several adorable dogs through out a snow covered Christmas Tree. Bring the holiday furry fun to your home this Christmas!
Plays 8 Assorted Christmas Tunes
Hand Sculpted
Hand Painted
Mini LED Lights Throughout Tree
For Decorative Purposes Only (Not Intended for Children)
Requires 3 AA Batteries (Not Included)
Dimensions
Length: 6.75 inches
Width: 6.75 inches
Height: 10 inches.
And then there's this one.
Holiday Dogs Musical Wreath by San Francisco Music Box Factory
This Holiday Dogs Musical Wreath is the perfect addition to any dog lovers home! Featuring several adorable dogs on a traditional wreath wrapped in red and gold ribbon. Activates with sound or touch allowing your guests to be greeted with fun lights and 1 of 8 assorted holiday songs!
Plays 8 Assorted Holiday Songs
Hand Sculpted
Hand Painted
Requires 3 AAA Batteries (Not Included)
For Decorative Purposes Only (Not Intended for Children)
Dimensions
Length: 11 inches
Width: 11 inches
Height: 3 inches
So you see, there's still room for these things to be downright ugly as sin. Parts of the description make me think they are, but other parts make me think it might be nice.
So the big question. If you got one of these, would you put it up? Or would you put it in the box of decorations you only trot out when those obnoxious family members come over for dinner to prove that you really really do like their gift?
Hmmm…now I'm looking at the whole category, and I'm wondering if a candle-holder is a safer option. Or maybe the globe. the whole page is here. What do you think? I just settled on the dogs because the person I had in mind likes dogs, and they said something recently that made me wonder if this might be a good idea, but maybe something else would be better.
As you can see, there are a lot of what sound like tacky options, and some hmmm maybe better choices. So I really feel like I'm taking a gamble.
I know beauty is in the eye of the beholder…but…I'd like to have as close to an objective opinion as I can so I don't give the most obnoxious gift ever.